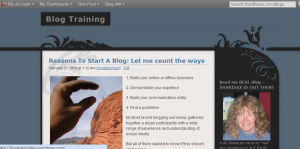 My most recent blogging workshop gathered together a dozen participants with a wide range of experience and understanding of social media — from some attendees who weren't quite sure what a blog was to a few people with active, sophisticated websites.
What they all shared, however, was the question about whether or not they should set up their own blog. To help them determine that answer, we discussed five other questions:
1. Will a blog help me build my business?
2. How do I set up a blog?
3. How frequently do I need to post an article?
4. How do I get people to read my blog?
5. How do I monetize a blog?
Here are some "simple" answers:
Will a blog help me build my business: YES, it can. Further Reading is all over the Internet [social media marketing articles], but basically a blog can put a human face on a company, and people do business with people not organizations.

How do I set  up a blog? You can read my article with wordpress.com directions
How frequently do I need to post an article? NO . . . you do not "need" to publish every day. . . unless you want to. The main thing is to be consistent — and at least once a week when you begin. You may love blogging so much that you will want to write every day.
How do I get people to read my blog? The answer here is not difficult, but it is BIG, i.e., there are lots and lots of ways including the following:
Most important

: Write interesting content relevant to your audience.

Comment on other people's blogs and form relationships with them, so perhaps — they will visit yours; you can guest post on theirs; you can attract some of their readers.

Promote each blog post on social media sites including Twitter, Facebook, Digg, Stumbleupon and whatever is hot — and whatever you have a profile on.

Do not forget about LinkedIn where you have a host of ways to build connections, relationships, and readers. Here's a recent article with 10 Ways to Drive Traffic to Your Blog Using LinkedIn.

Most Important

: Did I say write great content?
How do I monetize my blog? My suggestion here is easy: The Common Wisdom is that you do not even think about monetizing until you (a) know you are going to continue blogging, (b) build a sizable readership, and (c) have something valuable to sell — either your content or your own products offered on the blog.
However, if you really want to get into monetizing "early,' then check out Darren Rowse's hugely popular Problogger; this blog really does offer all the answers you could ever require — and don't forget to read the reader comments after each post.
But if you are still looking for more to read, try some of my past articles:
Beginner Blogger Workshop: What do I blog about?
Avoid These 9 Blogging Blunders: Guest post by Suzanne Vara
Use Your Blog to Become the Go-To Source for Information
To Blog — or Not to Blog — That is a good first question
Grab a Cool, Fancy & Free Design for Your Blog
Now let's get blogging.

And if you have Questions — or more Tips — please leave your comments below.