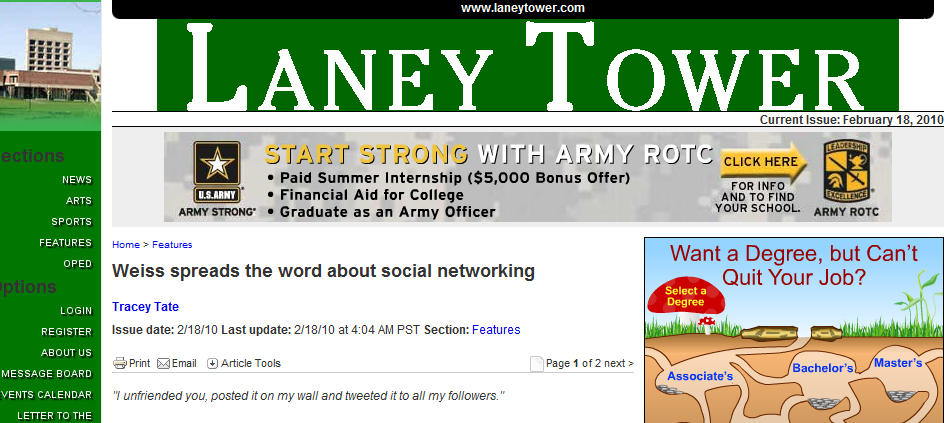 This summer I'll be teaching a social media course for journalism students at Laney College in Oakland, and I got the opportunity to promote the class for the students in the Mass Media & Society course.
Here is the lovely story written by campus newspaper editor Tracey Tate:
Weiss spreads the word about social networking
By: Tracey Tate
Posted: 2/18/10 Laney Tower
"I unfriended you, posted it on my wall and tweeted it to all my followers."
If that statement sounds like "Greek" to you, then you should have been present at "Making Sense of Social Media" presented by Shari Weiss, social media evangelist, on Feb. 9 in Journalism Department Chair Burt Dragin's Mass Media and Society class.
An English teacher at Laney, Weiss is on a mission to spread the word about the benefits of social networking. She defines Social Media as "internet tools and platforms for sharing and discussing information."
The top four social networking tools Weiss considers noteworthy are the following:
Facebook – the source of "unfriend," which was 2009 "word of the year" in the New Oxford American Dictionary
Twitter – where one communicates via 'tweets' to their followers, a micro-blog
Blogging – a personal diary or web log
LinkedIn – a professional networking website
When asked how Facebook compared to MySpace, Weiss made this comparison
"MySpace is like being at a bar, Facebook is like being at a backyard barbecue and LinkedIn being at the office."
With employers now checking out potential employees on the Internet prior to hiring, Weiss' analogy about the world of online social networking was timely for a room packed with college students. "Once you put something on the Internet, you can't get it back. It's there forever," Weiss said.
She told an anecdote about a woman who had her professional reputation slammed on Yelp and emphasized the need for everyone to be Internet savvy. Weiss then encouraged the audience to understand the importance of building a positive presence on the Web so that any negative information online will be "buried" by the good dominating the bad comments.
How "worthwhile" is social networking?
Conversation ensued about the worthiness of social networking. Student Naytasha Howard asked if social media would ever outrank porn on the Internet. Weiss and others in the class quickly responded, "It already has." Others chimed in about the value of social media. Student, Christopher Fitz said, "Social Media is a tool to enrich our lives."
Enrichment is exactly what Weiss promotes as a social media evangelist. In a time when self-promotion and viral marketing is becoming mainstream, using Facebook, Twitter and LinkedIn for business purposes are tools that Weiss believes are indispensable for promoting one's business or self. Keys to successful promotion include building a loyal community of followers on Twitter, building a fan base on Facebook and joining discussion groups on LinkedIn.
When asked by Weiss "Why do we care about social networking?' several viable reasons were given by students. Kale Williams responded that every decent job has found has been through friends and that he just received an internship from his Facebook posting.
Marketing efforts for big companies turning to social media
Weiss emphasized the value social media for business purposes with the example Pepsi, who was a missing regular in this year's Super Bowl commercials. When the decision makers at Pepsi did the research, they realized that they were not reaching their target audience by spending $2.5 million for 30 seconds of airtime. Their marketing dollars would be better spent using social media.
In a society where the virtual highway is getting wider and the traffic speeding up exponentially, social networking has become a necessity, not a pastime.
To connect with Weiss on her blog, go to sharisax.com. That's sax as in saxophone, which Weiss plays in her spare time.
© Copyright 2010 Laney Tower