So you're ready . . . to join the Blogosphere with your own individual views.
It's not exactly a "piece of cake," but as my many advisors told me — JUST DO IT, and you will learn a lot as you go.
GETTING STARTED is always the hardest part of a new endeavor. So here's a step-by-step tutorial to help you use the most popular free online blogging platform — WordPress.com.
If you follow these directions, you can be an "official" published blogger in just about an hour or so, which includes up to 30 minutes to get an email confirmation after you sign in.
Be certain to use the comment section IF you have any questions after you try this process. And keep in mind that this is just the first Baby Step, so don't be too hard on yourself.
To give you an idea of what you are in for, I'll list the instructions first. Then I will repeat them with the screens you will be filling out. Here goes:
1. Go to WordPress.com
2. Click on the Sign Up Now screen.
3. Put in your domain name and blog title.
4. Retrieve your Email Confirmation.
5. Click on the first link.
6. Click on New Post AND WRITE . . . AND PUBLISH
GOOD LUCK . . . AND GET BLOGGING:
1. Go to WordPress.com
Here is your first screen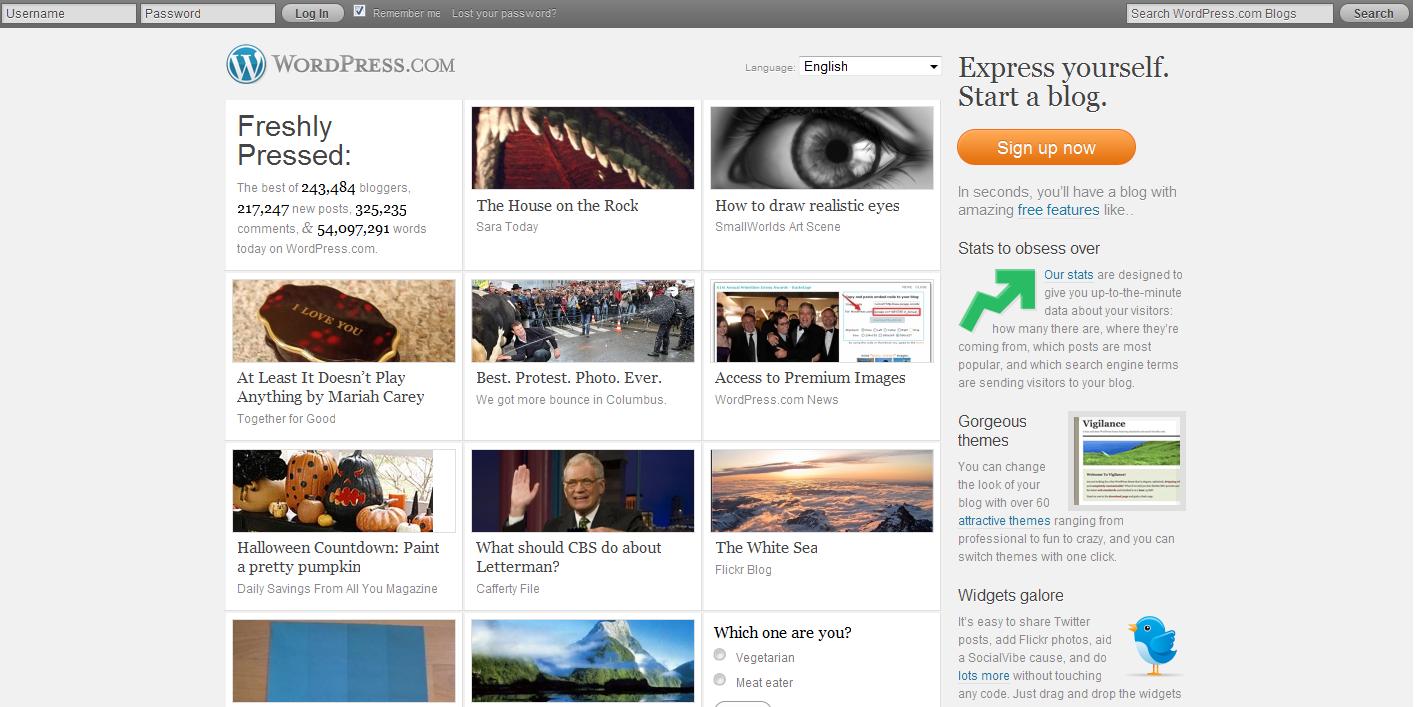 2. In upper right, you will click on the ORANGE "Sign up now" button
"Fill out the one-step form and you'll be blogging seconds later"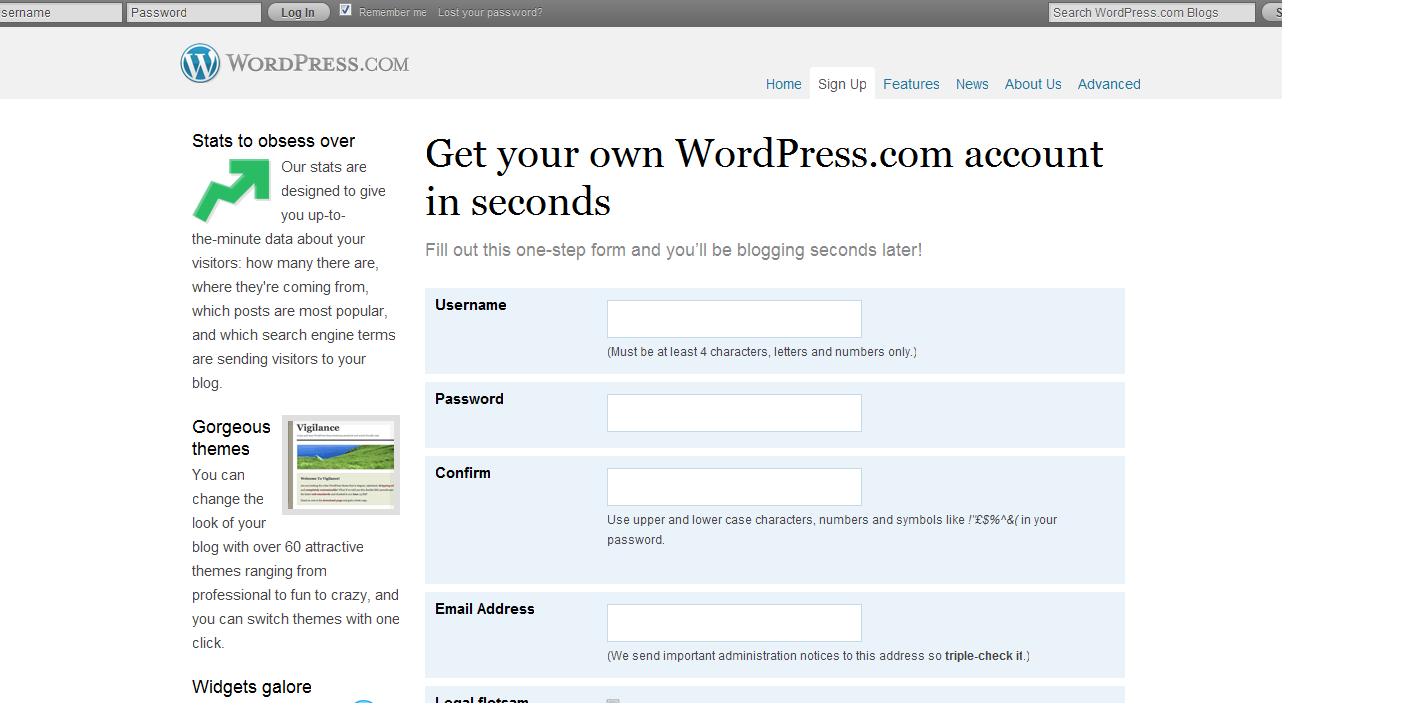 3. Next screen – BE PREPARED to find a "domain" name AND a blog title.
** IMPORTANT. Give the "domain" name some thought . . . especially if you want to be found by search engines. Try to think of KEY WORDS [i.e., the words people would use to search for your information] for BOTH the domain name and Blog title: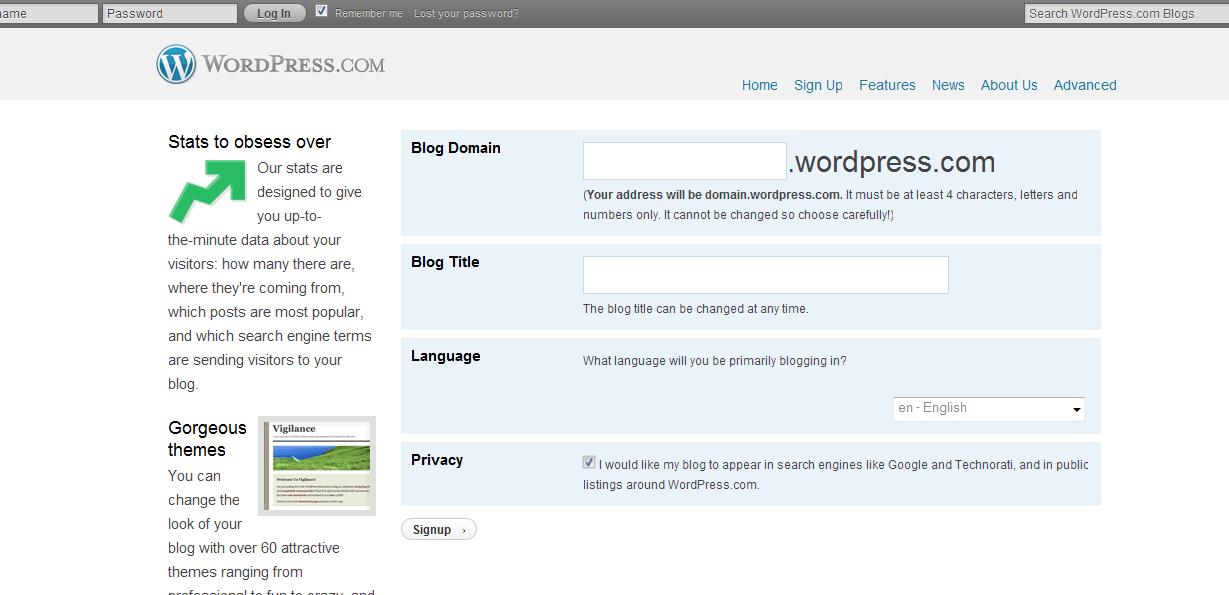 4. The next screen is called Check Your Email to Complete registration.
On this screen — which I am not going to show — you may "update your profile" by adding your First Name, Last Name, and something ABOUT YOURSELF. You will be able to change any of that information later.
COOL! I want to call my blog Cars & Guitars and other sexy things -[my husband Jack]

WHOA, Jack. You might want to re-think that name. Did you really want to attract a slew of pornography seekers?
BUT you cannot move on until you receive an email from WordPress . . . so now's the time to get out the chips and salsa.
ALERT: Your email confirmation will come from donotreply@wordpress.com. Be certain to check your SPAM folder before you panic.
Here is the email my husband Jack received to confirm his account: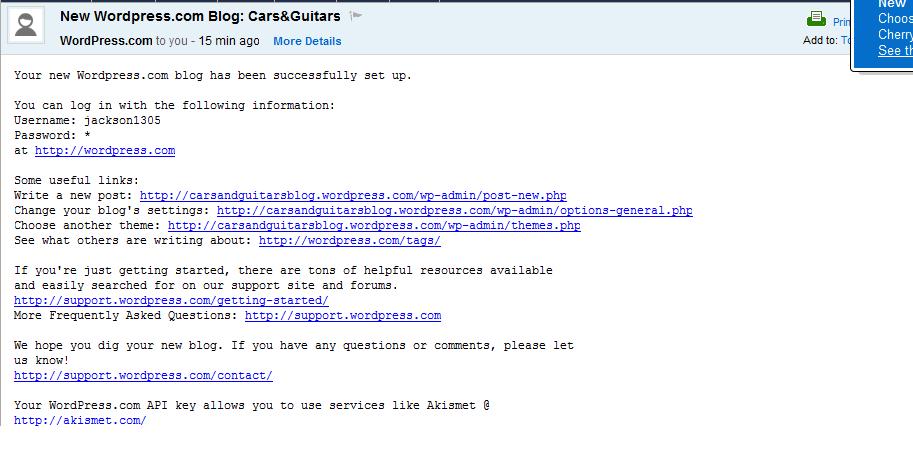 5. If you click on the first link http://wordpress.com [in your email], then you will see a screen LIKE this, but with your blog's information: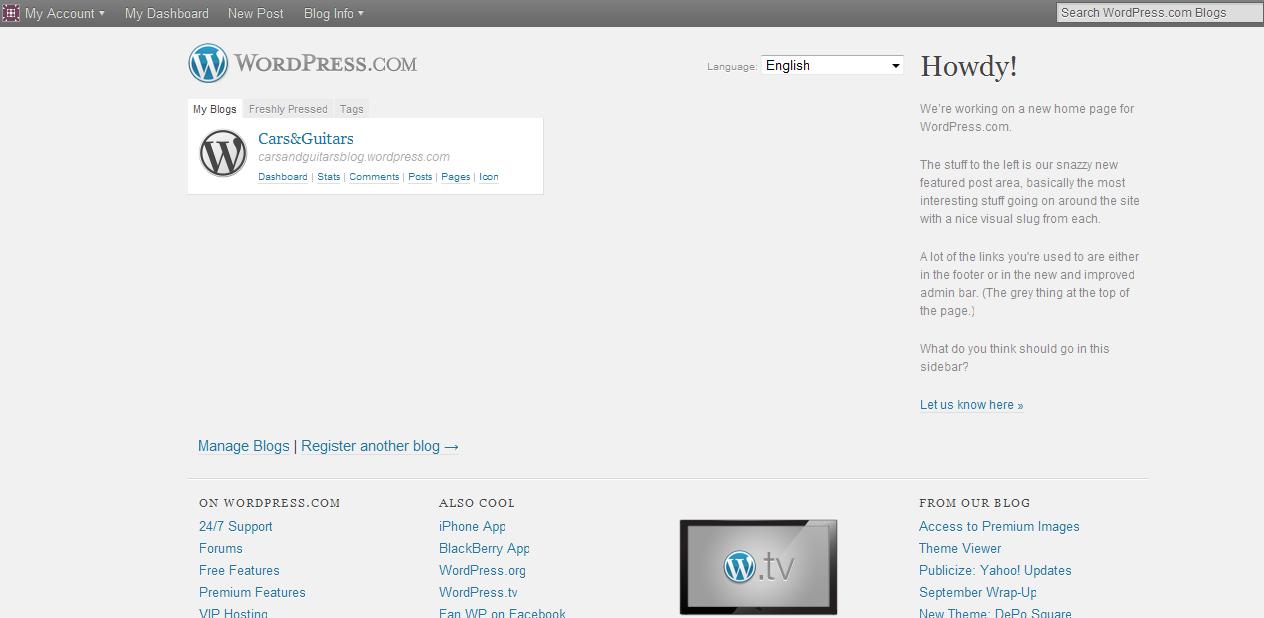 6. In the top left corner, you will see four headings: My Account — My Dashboard — New Post — Blog Info
[you will want to explore those options when you have time . . . ]
But for now, click on "New Post" so you can actually write something, post it, and take a well-deserved break.
7. Here is the screen where you will write that first post: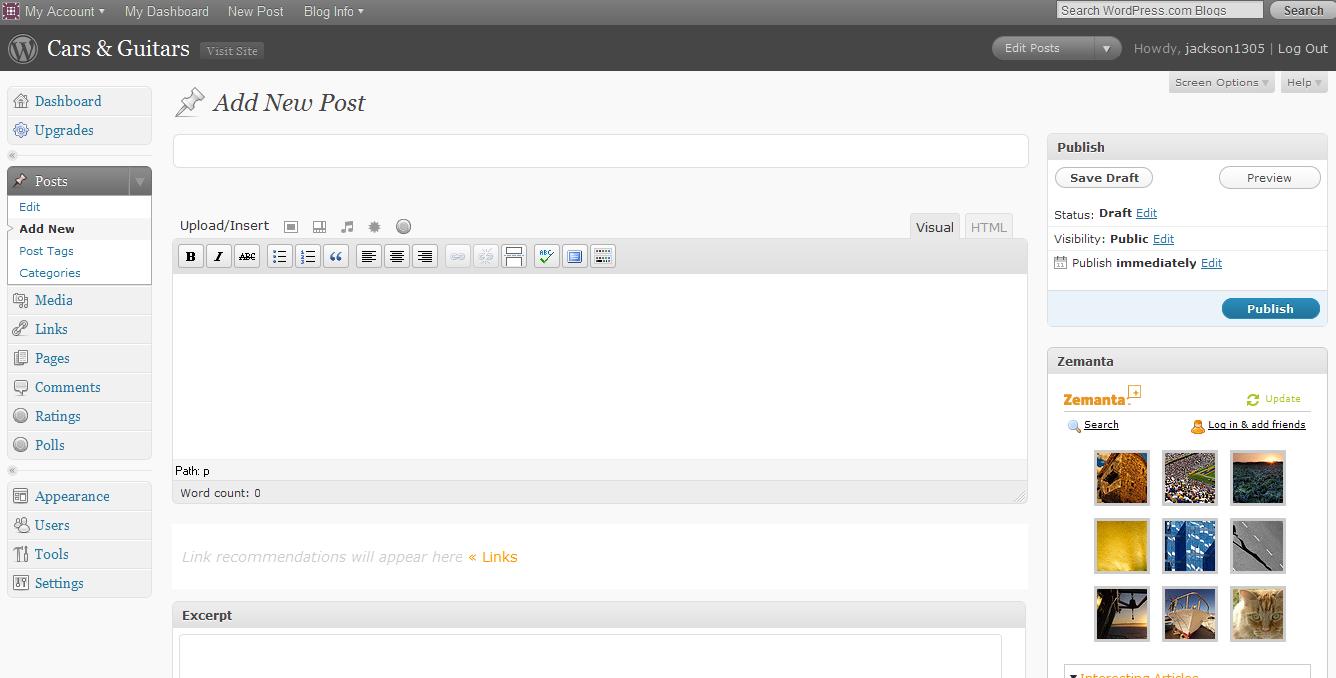 8. NOW IT'S YOUR TURN:
a) Think of a catchy title
b) Write your post
c) Publish [blue button on the right]
How do you add a photo?
How do you use boldface and italics?
There are buttons above the writing box. You can either try them out yourself OR ask a question in the comment section. But here is a screen shot of my husband's first post: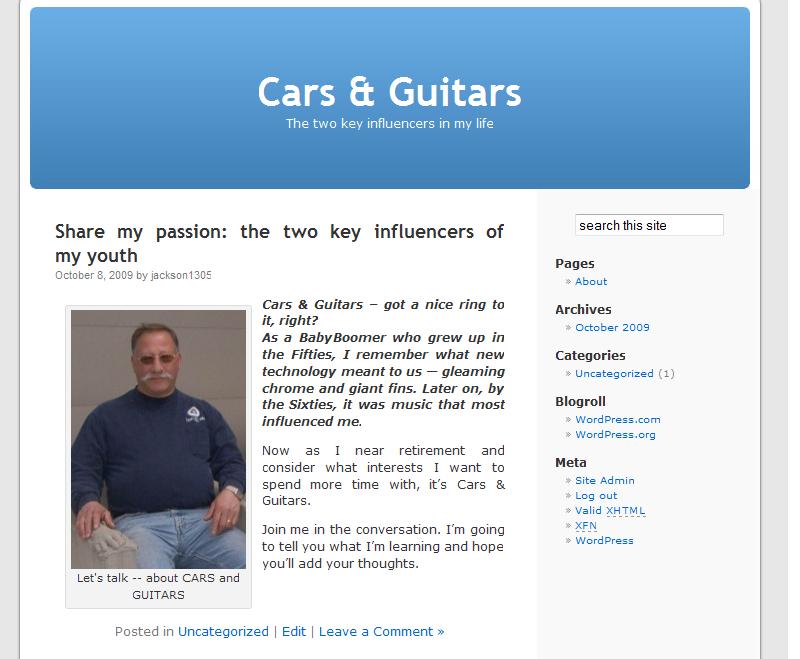 Good luck . . . and ask those questions 🙂