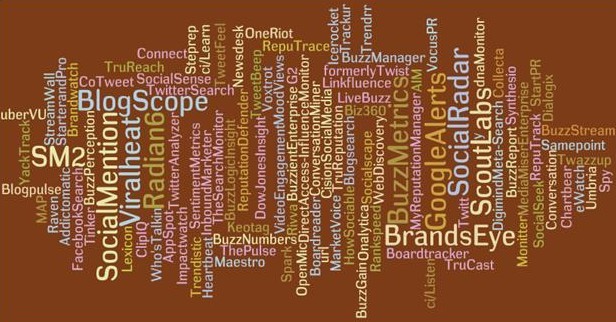 Success with social media strategies requires monitoring and reporting, but with so many tools available, what should you choose?
This was a Discussion Topic that has so far generated 88 comments on the LinkedIn group: Future Social Media. Among the individual site recommendations was a response from Alan Stevenson who offered several tools to consider, so I asked if he'd put his knowledge into a special Guest Post for my readers:
Guest Post by Dr. Jim Hamill and Alan Stevenson
This article will provide an overview of Social Media Monitoring tools, what they are, what benefits they can provide for your business and how you should begin to think about the solution(s) that meets your needs.
Just as Google Analytics has forced us to think differently about our website, Social Media Monitoring tools are forcing us to think very differently about our wider web presence.
What are Social Media Monitoring Tools
One of the major trends on the Web has been the emergence of Social Media Monitoring Tools – applications which allow companies to monitor the conversations taking place about brands, products, competitors or industries across different social media platforms:
WHO is saying WHAT, WHERE on the social web.
We have identified over 100 companies operating in this space, as summarized in Tag Cloud above.
Social Media Monitoring solutions range from no- or low-cost tools such as Google Alerts, Trackur, Social Mention or ViralHeat to more expensive and sophisticated tools, such as Scoutlabs, Radian6, SM2 or SocialRadar.
Some tools are sophisticated, but expensive
The most sophisticated (and most expensive) tools allow businesses to monitor and evaluate the following:
· A river of news: all the information pertaining to your business, industry, product or competition
· The volume of relevant mentions
· The topic trends (peaks and troughs over a period), tying in with events, other marketing initiations or potential reputation issues such as Nestle and a Palm Oil protest
· Details of what is being said at an aggregate level, from all content. Usually displayed as a "tag cloud" containing mentions of key words or phrases
· The mention medium: tweet, blog post, forum post, news item, video or image
· The importance of individual mentions with an ability to rank and further tag or categorize e.g. this mention is about "jobs"; "finance"; "competitors"
· Overall sentiment or tone (with some serious caveats); which mentions were positive or negative. See the idolstats site for an innovative application of this feature
· Language variants, some supporting analysis in 10 or more languages
· The perceived importance of mentions, channels, sources or individuals (in other words your influencers)
· Updates and changes as they happen, usually as email alerts or RSS feeds
· The opportunity to identify "actionable insights" e.g., the Banff Tourism Authority that noticed the potential viral impact of a squirrel or the Southwest Airlines team that got behind a video of their rapping flight attendant
Others are free, but with limitations
The free tools provide "some" of the aforementioned features and for many businesses (arguably most businesses); combining one or more free tools is good enough. I've highlighted a few to consider below:
Google Alerts – Searches Google's index across blog, news, video, web and groups for your key search terms. Results can be provided by email or as RSS feeds and it provides an extensive range of results (updated daily) but does not include Twitter results (yet). Further analysis (such as relevance or importance) or search within comments over a period of time can be facilitated through use of a Feed Reader (Google Alerts feeding Google Reader). A good starting point for any business in this space.
Social Mention – Provides a good level of social media analysis for specific search terms and includes sentiment analysis. Using the advanced search facility, terms can be customized to a great extent although there is limited use of authority or relevance in results. Not as feature rich as Blogscope and reports are fairly basic with less ability to specify dates or drill into results. Also, alerts are on basic search terms only.
How Sociable – Not a bad way of quickly getting a handle on how sociable a company or brand is. It scores your business across a range of networks and blogs. Simply, it creates a search query in each channel and rates the response. Although not 100% accurate it is a useful tool to track progress.
Trackur – Does the usual things well (aggregates search across video, web/news, twitter). Provides results in one place where filtering can take place but deeper analysis is not possible. Sentiment tracking is manually configured i.e. you set positive, negative, neutral for each return (the system defaults to neutral for all).

Blogscope – An initiative from the University of Toronto. It provides popularity curves and key words for any search and has good links to articles and videos (with preview facility). You can drill down by date and conduct comparison searches. The presentation aspect of the tool is excellent. It captures data from the main blogs and one or more video sites (although I suspect only YouTube). It does not appear to pick up Twitter and there is limited ability to analyze content further or even monitor on an ongoing basis.

A solution 'fit' for purpose
Businesses that receive a high number of mentions on a regular basis or those that have a portfolio of products and services to manage, will require the range of features and level of analysis only available from the more sophisticated "high end" tools. The debate currently taking place on the LinkedIn group: Future Social Media is testimony to the difficulty that then exists in determining which of the many tools on the market is the right tool for you.
It is often compelling to use the feature list of a product as the starting point for selecting a solution. Or indeed become fixated by what tools do or don't do as well as their counterparts. This invariably leads to problems. I should also say that all of the leading Social Media tools are limited in the following:
· They do not analyze sentiment well; they are unable to determine automatically and to a high degree of accuracy positive or negative mentions and often err on the side of caution i.e. make the majority neutral
· They will not calculate Return on Investment for you
· They will not interpret the findings for you or take effective action for you
· They are not an answer to further manual processing and manipulation
My answer to the question of which tool to use or which tool is best, is the same answer for any business looking to monitor Social Media. The tool or tools you use should depend entirely on your prioritized needs or requirements e.g. if you are only ever going to receive a few mentions a month, why pay a high fee to monitor those conversations? If you are only ever going to monitor conversations in English why do you need a tool that translates tweets into eight different languages, as cool as that function appears?
Put another way, you must consider your rationale for monitoring Social Media in the first place. This rationale should be closely aligned to your overall Social Media vision and objectives and tied in to your key initiatives (YouTube Channel, Facebook Page, Twitter account, Website or Blog etc.). In this sense, you will certainly be considering a Social Media Monitoring solution that augments the range of 'channel' specific analysis tools that already exist, for example, Google Analytics, Facebook Stats, YouTube analytics, and so on.
Social Media Monitoring tools can support your Social Media Strategy in a number of ways:
Market Knowledge and Intelligence

. Where your customers, partners, competitors and staff are hanging out online.

Customer Insight and Understanding

. What your customers and their influencers are saying about you or your competitors.

Engagement

with a potential network of high value, high growth prospects. Identifying key posts and follow-up actions.

Interaction with Key Influencers

. Identifying influential sources for incorporation into a wider strategic response.

Reputation Management

. Timely identification of potential reputation issues.

Improved Sales and Marketing

. New prospects, customer and market opportunities.

Improved Performance Monitoring

. Monitoring a number of measures of Social Media performance (very different than those we use to measure Website Performance). We like to call them the 4I's of: involvement (views, followers, members etc.), interaction (posts, comments, ratings etc.), intimacy (sentiment, affection, aversion to the brand) and influence (forward, share, retweet etc.).
The question is what do you really need and what is a nice-to-have?
Knowing this will help you focus in on a more detailed set of requirements, features and functions that you can then use to compare and contrast solutions. You might also consider using a free or low cost solution as you formulate your Social Media strategy (determining where your customers are hanging out and which channels you should engage) but then commit to a more robust package to support your implementation and ongoing performance monitoring.
In conclusion, we believe Social Media Monitoring tools herald an exciting new era for the Web. Just as Social Media is relevant for most businesses and industry sectors then so too are Social Media Monitoring tools. However, choices should be made around which tools are fit for purpose for your business. If you start your exploration of this area from the perspective of what you need and what you are trying to achieve, we believe you will find a solution just right or certainly good enough. If you start from the feature list on the vendor's website, you may well give up or procure a tool that offers limited long-term value.
Social Media Monitoring, when used correctly, will support and enable many of the activities that are now critical to your future Social Media success and your future business success.
We look forward to your comments.
Alan
Alan Stevenson
w: www.linkedin.com/in/asbusinesssolutions
About the Authors
Dr. Jim Hamill and Alan Stevenson are acknowledged experts in Web 2.0/Social Media having successfully delivered on a wide range of consultancy projects in both the UK and internationally. They own and manage two very successful online communities – the tourism industry professional networking community 'Tourism 2.0' (www.tourism2-0.co.uk); and the 'crowd sourced' Web 2.0/Social Media e-Learning Community www.web2-0cpd.com. Alan has been advising businesses around strategic use of Social Media Monitoring tools for some time.
| | |
| --- | --- |
| Dr. Jim Hamill | Alan Stevenson |
| | |
Figure 1: Social Media Monitoring Tools – Tag Cloud  Source: The Authors