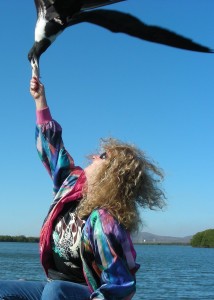 You've played with Twitter and perhaps gotten past the "Emperor's New Clothes" feeling that there's a lot of Buzz about nothing.
You have gotten past that, haven't you?
Let's chat
Today's Getting Started lesson is going to "resemble" a conversation . . .
However, since I'm the only one in the room, I'll have to make up your part, i.e., the questions.
That gives me an edge — especially if I select only questions I can answer 🙂
Our Conversation Begins:
"Describe Twitter & what it does"
Twitter has often been described as "Micromedia' or "Microblogging." As a user, you are provided with a tiny notepad — think IM on your computer and text message on your cell phone.
What Twitter DOES: (a) forces the writer to be concise, but (b) allows messages about an unlimited number of topics for an unlimited number of uses.
What you DO: (a) decide Who is worth "listening" to, i.e., following
AS WELL AS (b) choose what you broadcast according to Why you have chosen to use this online tool.
for example: refer to objectives in previous lesson

Drive more traf­fic to your website?
Find out if your customers, and prospective customers are on Twitter: (1) Follow them; (2) Hope they follow you back; (3) In the meantime, engage them in conversations by using the @name function [after you have read their tweet]; (4) Offer VALUE with your own tweets — give them a reason to click on your website link.
Build a closer com­mu­nity feel­ing with your customers?
See answers (1) – (3) above, but this is your new (4) Your tweets should show that you are listening by offering sincerity and solutions — inspire trust and offer value from the relationship.
Estab­lish or change your organization's reputation?
This requires LOTS and LOTS of "communication auditing," i.e. listening.
TIPS: (a) Go to search.twitter.com and begin by simply putting your company name in the search box. You will see a REAL-TIME [i.e. as it is happening] stream of the Tweets that mention your name; (b) Click on the icon; read the person's tweets; follow him or her; and monitor their tweets.
LATER you will want to engage them in Twitter conversations. This is where the "community-building" will offer an opportunity to spread good will and good words.
Find out what your com­peti­tors are up to?
Again, search.twitter.com for mentions of those "others" in the marketplace.
Know how to find and hire the best employees?
Of course, LinkedIn [Step THREE] will be your best source to act on this objective. However, you can tweet your job opportunities and then check our responders by their other online presences — as well as their personal tweet streams.
Dis­cover trends as they are happening?
Here are some Twitter-related websites to check out the Trend Landscape:
Trendistic – hot trends on Twitter
whatthetrend – what's trending and why
Share your knowl­edge and expertise?
Here is where you can shine — and promote that "lustre": Blog about your expertise, start a Squidoo lens, answer a question on Linkedin. Whatever you do, tell the Twitterverse with a teaser and a link in your Tweet.
Mon­i­tor the mar­ket­place to see what peo­ple are say­ing about you, your prod­ucts, and/or your industry?
Search.twitter.com ONCE AGAIN: Put in who and what and see what's being discussed — and the tone of the discussion. Whom/what do people like, and what don't they?
Learn how to be a bet­ter, more effi­cient, effec­tive busi­ness person?
Love this one. Find smart people to follow; then click on the links they suggest; find time to read the information. [Bookmarking won't be enough. Do you ever get back to those bookmarks?]
"And now, I want to know . . ."
Ooooops, time is up for today's session. But don't you have some homework to do?
And, besides, you can always add those questions to the comments, and we can look at them next time.
Happy Tweet Day