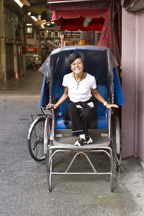 Now that 645,750,000 million Twitter accounts have been set up, it's a great time to distinguish yourself from the rank & file. Building an online presence — whatever the platform — is, in fact, under your control.  People using the "Global Whiteboard," i.e. the Internet, must keep in mind that "Whatever you post can and will be held against you."
So if you want to grow your online reputation by prudent and intelligent use of Twitter's microblogging technology, you do need to be deliberate: Plan a Tweeting Strategy that will help you build relationships, grow a community of followers, find answers to your own challenges, and become a Go-To Source for information.
What should you Tweet?
Here are ten ideas to help you stand out from the crowd and achieve your communication goals:
1. Be your own unique self: When you have a personal insight that you would like to share, your "microblog" on Twitter helps paint a picture of you as a caring, thinking individual.
e.g. "People are NOT merely numbers. When businesses fully understand this, their strategies and tools will adjust."

e.g. "The future of advertising is evolving, so take a risk and try something new and different. If it doesn't work, don't lose the lesson."
2. Be a curator: The most valuable information on Twitter for many Tweeple are the links alerting them to useful information. And some of that indispensable wisdom could be your own blog posts, photos, or videos. Of course, you will need to use a URL shortener like bit.ly [http://bit.ly/] or you will not have enough characters to write a context for the link.
e.g. Creating a video resume is only one of the fantastic tips for "Enhancing Your Online Presence Through Video": http://bit.ly/di2Tmo

e.g. This weekend, it's time to Tweak that LinkedIn profile: http://bit.ly/ad6Bjr [NOTE: Shameless plug for one of my own popular blog posts.]
3. Reward with Retweets: One of the best ways  to build relationships on Twitter is to RT (ReTweet), i.e., expand the reach of someone else's Tweet so that it can be read by your followers.
NOTE: It's fun to see RT's of your own Twitter updates. There's even a scientific study that shows the most (and least) RT'd words and phrases:  To earn your own RT's, try to use any of these Top Ten Retweeted Words: (a) you, (b) Twitter, (c) please, (d) retweet, (e) post, (f) blog, (g) social, (h) free, (i) media, (j) help
4. Search & Reply: Search Twitter for a keyword or phrase in your line of work. Find a Tweet that resonates with you and REPLY, i.e. @twittername with a comment to them.
e.g. Search for "local marketing tips" — Find a Tweeter whose advice you like — Write a comment or tip of your own to that person.
VOILA, you have started a new, possibly productive relationship!
5. Use hashtags: The pound or number sign — # — signifies a particular topic that can be commented upon and easily found by anyone searching Twitter. These "tags" are either created on-the-spot by anyone OR they are regularly used to continue conversation/discussions.
If I am Tweeting at a conference like SocialBiz2010, I would add #SocialBiz2010 to all my Tweets, and other participants could keep track of my notes AND add their own.
Same goes for books. I'm reading Brian Solis Engage, so when I like a certain insight, I can Tweet something like this:
"Brandstreams are fortified content channels dedicated to reinforcing brand personality & value proposition across the Social Web." #Engage
6. Get personal: People new to Twitter are turned off by such seemingly insignificant and frivolous references to restaurant visits and waiting in lines at airports. However, this type of banter does NOT make Twitter "stupid" as some newbies say.
Rather, Twitter offers a very, very easy way for people to let one another know they are "listening" and that they care. People do business with people, so the more human we are with one another, the easier it is to build trust.
Plus, you may read about that restaurant and want to know more about the food & service OR perhaps your Twitter pal is on his/her way to your city and you hadn't even known it.
As email becomes less and less read (recent statistics say that 90% of email goes unread), Twitter Updates are great ways to send a note to someone simply to keep in touch. When you put the at sign — @ — in front of the name @yourbuddy, the friend can easily find these references in his/her Twitter stream.
7. Don't forget DM's: When your personal friend is following you, you can always send a DM, i.e. Direct Message, that only he/she can see. Common Twitter courtesy is NOT to RT DM's. 🙂 That is, you shouldn't share private Direct Messages with the rest of the Twitter world.
Given the simplicity of Twitter in comparison with email, DM's are a great choice for arranging meeting times, sending a personal tip, or just saying HI to a friend.
8. Ask questions: Because Twitter is quickly becoming a popular search tool, you should consider asking for information you need — or would simply — like to know:
e.g. What's your favorite new movie out now and why did you like it?

e.g. Has anyone else had trouble getting Foursquare to work right on their Droid?
You just may cultivate new friendships as you learn useful new information. People on the Social Web LOVE to help one another . . . and show their expertise.
9. Company promotions: FINALLY, we get to the more business-type uses for Twitter. Common Wisdom suggests that no more than 20% of your Tweets should be strictly business, or you will be considered a spammer.
You certainly Can and Should Tweet about special sales and even discounts for Twitter users:
e.g. Discount prices on adult and child tickets to such-and-such attraction in Orlando. Use coupon link [URL].

e.g. $249.99 for a 1 Year Membership to Fitness Club. Use coupon link [URL].
10. Company news: Why not add short blurbs about people and events as well:
e.g. @lizzywebmart is now offering discounts on website home page videos

e.g. Social Media University class schedule for September is now available. Click link [URL]
Fifty-five million Tweets a day: But how many of those will be worth reading and following through on? Plan and implement your own Tweeting Strategy — and your Tweets will be the OutStanding ones.
What other Twitter Strategy ideas have worked for you?
FURTHER READING:
Twitter does NOT have to be "stupid"
Twitter 101 – What should you Tweet, part ONE
What should you Tweet, part TWO
What to Tweet so your company becomes a Brand All Star
21 Tips for using Twitter and Facebook for business