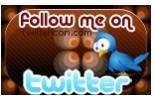 "What to Tweet" articles have been among the most popular on my blog. That's why I suggested the topic to Michael Cohn, founder and CTO of CompuKol Communications — when he asked me to write a guest post for his very popular social media for business blog.
I'd been reading CompuKol Communication for quite awhile, and a recent article stood out as one I wish I'd written. Michael allowed me to republish it as a Guest Post here: Why your website really needs a blog. And here is the article I wrote for his blog:
17 Ideas to Make Your Brand a Twitter Success Story
Companies that understand the power and potential of Twitter to effectively communicate with their markets, their employees, their communities – and the entire globe – are growing their reputations as industry innovators and category leaders.
Two recent reports show Twitter to be the social tool of choice for businesses. The Burston-Marsteller study showed that 65 of the largest 100 international companies have active Twitter accounts, and 96% of marketers with social media knowledge are using Twitter.
It's all about Influence and Interaction:

(a)     The online population that's creating the content influencing the rest of the world is on Twitter

(b)     Customers prefer Twitter as the mechanism to truly interact with brands and learn more about them.
With Twitter as a communication platform, brands capitalize on speed and brevity to listen to the marketplace, respond to inquiries, resolve issues, build community, and promote their products and services.
Here are 17 suggestions on what your company should Tweet:
1.       Announce special offers and sales instantly to a large audience.
2.       Write live updates on events like conferences and trade shows. Twitter is a great last minute marketing tool.
3.       Provide links to blog posts from your company officers and employees.
4.       Highlight URLs to relevant articles from respected industry sources.
5.       Retweet [RT] brand followers to show you listen to them and respect their opinions.
6.       Offer rewards to customers who Tweet about your brand.
7.       Engage in real-time conversations with key influencers to establish your brand as an industry source for bloggers and other media people.
8.       Create valuable webinars to generate leads and promote them through Tweets.
9.       Post photos & videos from your offices, stores, and warehouses.
10.     Ask questions and get opinions. Twitter is like a real-time focus group; it's great for feedback. This can be especially helpful for market research and product development.
11.     Answer questions, especially about your brand. Show you are listening.
12.     Set up a Twitter account that acts solely as a Help Desk. Have experts ready 24/7 to respond to inquiries.
13.     Share sneak peeks of projects or events in development.
14.     Recommend sites and events that your customers might enjoy and benefit from.
15.     Comment on industry issues.
16.     Congratulate employees on promotions and other achievements.
17.     Publicize customer success stories.
Twitter eliminates the middleman and allows brands to both listen and talk directly with their customers. Many companies like Dell, Home Depot, Starbucks, Jet Blue, Whole Foods, and Southwest Airlines – to name just a few – have already developed successful Twitter strategies. Follow them. Listen to them. Engage with them. Learn from them, and then just do it.