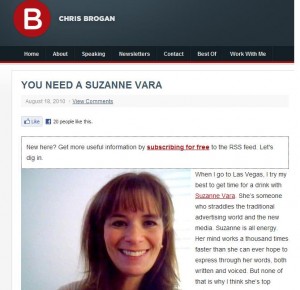 As more and more small, medium, and large organizations are learning that Social Media Is Not A Fad, their leaders and employees are understanding the power of LinkedIn to increase the chances they can be found online as the "Go-To Source" for products, services and expertise.
I depend on my friend and fellow blogger Suzanne Vara for the latest updates to LinkedIn and many other social media sites. She was profiled by social media top influencer Chris Brogan in a special post: You need a Suzanne Vara.
Here is her recent article on LinkedIn's latest update:
LinkedIn Enhances Profiles With New Customizations
Guest Post by Suzanne Vara [first published on October 19, 2010 in her blog]
LinkedIn has enhanced profiles with new customization categories to showcase your skills and accomplishments rather than having them get buried within your summary. These new add-on customization categories are geared towards users who have been published, received patents, certifications, licenses and accreditations as well as those that are multi-lingual. Standing out above the crowd has never been more essential in today's job market where we are seeing an increase in those looking for and applying for jobs. LinkedIn profiles are not only resource for job seekers to connect with key employees on LinkedIn but also for hiring personnel to gain additional information about a prospect prior to contacting for an interview.
LinkedIn New Profile Customizations
Your LinkedIn profile is an opportunity to position yourself through a very detailed summary. However, we know that too many times the summary is not always read completely and trying to keep it up to date and focus on the key points is not easy. The new customizations help to remove some very pertinent information, which you can semi-customize your profile and decide where it will appear within your profile.
1. Multi-Lingual. This section allows you to choose the languages that you speak and your fluency level.
2. Skill Set. Add specific skills with your level of proficiency in each skill for users to easily identify. This is extremely helpful to hiring managers as well as those who are looking to promote their business as users can quickly review the skill set to match to their needs.
3. Certifications, Licenses and Accreditations. Received any industry specific certifications, licenses or accreditations that are essential to performing your job? This section is a simple listing of these items so that you can showcase them on your profile for all to see. Generally these were placed in education, honors and awards or interests where they did not necessarily belong.
4. Publications. This addition has to be one of the most useful for those that have been published as you are able to not only list the publication, provide a brief summary but also add the url to the publication.
5. Patents. Inventors are really embracing this customization as whether you have received a patent or it is still pending, you can add this to your profile.
These new profile customization enhancements are very user friendly and self explanatory as well as being extremely functional. They are easily dragged and dropped to where you want them to appear on your profile under the blue box of course. Removing this information from your summary will allow you to create a very powerful summary that delves deeper into your experience and offerings.
Now to work on a new summary …
photo credit: patent photo, LinkedIn blog
(all other photos are from my personal profile)