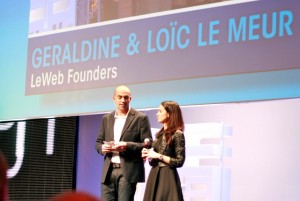 When Parisian student Cyril Renaud spent a year "abroad," we at San Francisco State University were fortunate that he enrolled in one of my marketing classes early in 2009 —  both he and I were just beginning our immersion into All Things Social Media.
Cyril is now an international business student at  The American Business School of Paris and has a personal website where he recently posted a report on the seventh annual meeting of LeWeb, a noteworthy social media conference that attracted more than 3,000 participants on December 8 & 9, 2010.
TRENDS and HIGHLIGHTS from Cyril's report:

1. LeWeb is the Number One Internet event in Europe according to its founders and organizers Geraldine and Loic Le Meur. Loic is a blogger and entrepreneur who also established the popular Twitter client Seesmic.
2. The two-day conference featured  keynote speakers, panel discussions, and a variety of workshops organized by Facebook, Google, LinkedIn, RIM, and PayPal among others.
3.  Two significant themes impressed Cyril: First, brands are failing to engage properly on social media. Second, the web is moving towards a web of context, and the new trend in social media is social curation — forget about geo-location!
4.  Carlos Goshn, CEO of Renault, opened the conference, explaining how Renault, employing over 2 million people, is struggling to find more social marketers and community managers to develop their presence online. It is interesting to see how brands are trying to cope with a "medium that is evolving faster than we can understand it," according to Brian Solis.
5. Most brands nowadays have a website, a facebook page, a twitter feed, a Flickr gallery and/or a YouTube channel, but many misuse those means of communication. They fail to engage with customers who take time to comment, and fail to plan content relevant to their audience.
Here is the main thing to understand:
Brands finally have the opportunity to listen to their consumers.
6.  The 4Ps of the marketing mix have added the 5th one — PEOPLE. And the smart brands are increasing their social interactions. They retweet and mention on Twitter, add Facebook LIKE button on their websites, and most important share relevant content with their fans.
7.  It goes beyond sharing a status, it's fcommerce. Brands should not forget the notion of continuum: You need to cut through absences. "Business should be listening 24/7" said the influential Gary Vaynerchuk.
So we have seen the Web is about people. It is also about content. We share statuses, links, photos, videos and more. But the Web is shifting toward a Web of context. Think for a second of the number of friends and followers you have (almost) never met. Still, you do have a relationship with those people based on a common theme, a shared topic.

In my case, I barely know the people I follow or those following me on Twitter, but we contribute to the same topics (media, tech. or photo in my case). And that shift toward a contextual relationship is setting up a new trend in social networks. Social curation. We are now gathering links, articles, or lists of what matters to us. [Cyril's quote]
Social Curation
A first step leading the way to curation was Twitter's use of lists (in addition to the existing retweets or favorites).
Paper.li offers you your twitter feed in the form of a newspaper. Daily, weekly, that is up to you; you are the chief editor. They won the virality prize for start-ups at LeWeb.
Storify allows you to collect posts, tweets, links or photos of a common theme, and to embed them into a story.
Scoop.it Same concept for this French start-up. You collect, you share. Simple and easy concept for those social networks.
Cyril's Conclusion
What was also interesting at LeWeb is the entrepreneurial aspect of the conference. Many people went there to find investors and business angels. It's incredible to see how many venture capitalists are willing to invest in start-ups.

To conclude, if you work as a PR person, focus on being relevant. As a simple user, monitor social curation. And finally, as a entrepreneur, not only should you believe in what you do, but don't forget to concentrate on your business plan.
If you found this link because you know Cyril, please say HI. If you found it because you were at LeWeb, please offer us your takeaways. and if you found us via some other means, please tell us that as well.