Two months ago I was in a yoga class where I sensed a whole host of similarities with my other passion — social media; hence, Top Ten Reasons Why I Love Yoga and Social Media.
Today, ten days into my Puerto Vallarta vacation, I can see how Social Media is, indeed, so much like a Day at the Beach.
Conversations with new friends
Without a doubt, the Number One reason that comes to mind is the conversations with people outside my day-to-day routine. In fact, when people ask what I like most about my annual Mexican vacation, it is exactly that: Meeting so many new interesting people to share ideas and experiences with.
Listening to their stories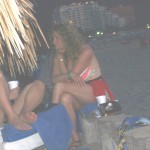 Of course, Listening is the First Rule to success in Business and every kind of relationship. So many times when we meet new people, we think the way to make a great impression is to "pontificate" about our own lives. But if you think about it, how much will YOU learn just talking about yourself? Plus, my experience is that people love those who really listen attentively. Way back when I started this blog early in 2009, I shared some of my business communication tips on How to Listen better.
Learning about the local activities and customs
Whether we are visting a place for the first time, returning after a long absence, or simply coming back to a favorite location, there are always new things to find out about:
How to get around
Where are the best deals
What's new and different
What's traditional and not-to-be-missed
Finding people to do things with
What's better than meeting new friends and trying out the restaurant that everyone is talking about? It's the SHARING that makes every experience richer and more powerful. I can't help but be reminded of a great sharing opportunity for everyone with a blog — whether you are on the beach to day or, most likely, not. My fellow Baby Boomer social media evangelist Larry Brauner is inviting everyone with a blog to post it to his fan page: While you all start collaborating with Larry and our friends online tonight, I'll be joining a bunch of friends — new and old — at the Barcelona tappas restaurant in PV.
Enjoying life
Personally, I'm enjoying my experiences learning everything I can about all of our marvelous ways to connect, but since I'm still on vacation in Mexico [and I don't want to get sand in my computer], it's Off To The Beach!
BUENOS DIAS, ALL!