If the question is –
How does one become rich and famous on the Internet?
– then there are as many answers as there are experts, gurus, and consultants. DRIVING MISS SHARI is the answer from this writer/teacher/blogger, who has learned that the Old Rules, Media, and Strategies must take into consideration everything that's New [i.e., Rules, Media, and Strategies].
Driving Miss Shari is the "pearl" beneath the rock
What the heck does that mean?
In brief, this blog is my way to deal with a huge new challenge in my life — the fact that I can't drive for three months.
No, it wasn't drugs or alcohol, and I didn't run anyone over. It was simply an unexplained "syncope" [unconscious episode] that had to be reported to the California DMV [Dept of Motor Vehicles] resulting in a license suspension until an explanation is found — or if I don't faint again for three months.
Imagine: the car's right there in the driveway, but you can't use it. How do you think your life would change?
This blog will feature all the wonderful people who help me get around — and what it's like to be vehicle-less in the suburbs.
When this blog makes me rich and famous, I can be as magnanimous as Bill Gates and Warren Buffet and throw a huge party for every one of my Drivers du Jour, arranging their transportation to the event via a chauffeured limousine.
Meet Tax Expert Bob Crane, my Driver du Jour – Day 25
So how can you help me and possibly get invited to the party –if you're not one of my drivers?
Check out this blog and write comments about (a) who/what drives you or (b) who/what drives you crazy.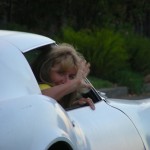 Starting now . . .