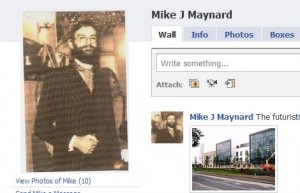 Many of my regular readers know that after a year-and-a-half blogging about Social Media, this past summer I began to publish  DRIVING MISS SHARI to "profit" from a recent accident which lost me my driving privileges for 55 days and "Become Rich & Famous on the Web."
Right at the beginning of that process, I met Mike Maynard, the wittiest British writer in the world. And now Mike has his own blog-within-my-blog. Today Mike offered some sage Social Media Marketing tips, so I've included them here.
BTW, Mike has a clone, so he uses the keyword "Sierra Oscar" to let us know it's actually him — and not the clone
In which Mike Maynard advises us on his horoscope AND Social Media Marketing strategies
Sierra Oscar it is me…
My horoscope for today:
As the Moon moves into your sign you can now ask the Universe to grant some of your more interesting wishes. If there is anything you want and you have had trouble getting it, try today and you may be surprised when it finally comes your way. Overall your luck holds, especially if you have a brilliant idea that needs funding. Go for it. You might just get it Aquarius!
Thank God for that. My Chinese horoscope predicts a winter of depression. I am promised some interesting Chinese rice recipes later. I can't write about rice because my interest is related to something pertaining to that reference was scatological! 🙂
This will interest you as no one else appears to commenting:
The rise of social media has added to the promotional element of the marketing mix. Marketeers now have an additional communication opportunity to attract and retain targeted consumers often relatively inexpensively.
Social media can be used by marketeers to create awareness about products, news, and other business related issues, it can be utilised to lift the profile of a campaign and change the perception of a brand.
As brand loyalty is becoming increasingly fragmented and often easily lost, social media offers a further opportunity to build a relationship with consumers as it should encourage online discussion where users are able to exchange views and gain further information from what the user considers to be a trustworthy source. It could be said that as well as increasing brand loyalty, social media gives marketeers the ideal opportunity to gain opinion from today's youth which has always been seen as the most difficult target audience to reach.
Studies have shown significant increases in sales via social media outlets such as Facebook, Twitter and Myspace. Although measurement of the social media element of a campaign is difficult it can be argued that qualitative information gained from consumers online comments will give an immediate indication as to the success of any campaign.

Social media is still in its infancy and developments such as the iphone places application for facebook continue to provide further opportunities for marketers to communicate with their target audience virtually at a personal level.

Marketeers should take full advantage and add social media to any marketing campaign. Social Media is King right now, and everybody should be involved.
That was apparently written by a local marketing "expert."
This was also written by an "expert":

To put the power of social media into perspective, computer giant Dell generated around $6.5m of revenue through its use of social networking site Twitter alone last year. The company currently has 1.5 million followers. This shows how integral social media can be to a brand's marketing strategy.
It sounds good and so why did I laugh?
I looked at his 'corporate' Facebook page. I copied this:
3 people like this.

Up to 3 already! WoW… Expert…

The page couldn't be more boring. People are also posting sarcastic comments (no I didn't but it was tempting).

Stay out of social media unless you understand it…

Pay me and Shari for advice… I do this side of the pond where the frogs are…

Today's effort is here:
http://sharisax.com/DrivingMissShari/2010/09/guest-blogger-mike-maynard-wit-farmville-strategies/#comment-643