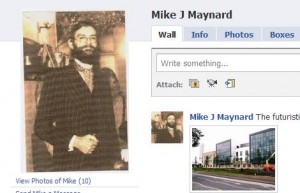 Friday, 31 December 2010, Sierra Oscar
Happy New Year to my fans — both of you…
It's the last day of this year. Everyone in Café Niente appears to have a cold; so does my neighbour. I posted this note in Café Niente; most of them are still in bed…

When your throat hurts badly, its T-lymphocytes attacking the virus and bacteria; they are the Sherman tanks of the immune system and you're about to get better!

I'm trying to make New Year resolutions so I can write a blog about it. In 2010, I wrote a story for charity, re-wrote my novel, wrote a story for BBC radio, made videos, designed a website, edited lots of assignments for students (mostly Chinese), started a WordPress blog, joined Twitter, took lots of photographs and started Chinese cooking with a wok. I've started taking photos for Nothing Cooking at Niente; but really I need a challenge…

Pre-cognitions
I researched some predictions from psychics and that sort of thing last night. One was that 1 in 5 people in the UK will live to their 100th birthday; another prediction was the world will end in November 2011; I'll go with the former predication.
The only prediction I read that I agreed with was one about an earthquake; but most predictions put it in California. I think it will be the San Andreas Fault; but out at sea. It won't affect me, I have no intention of going on any beach; I would probably come back with shell shock… It could be serious of course, we saw the earthquake in Haiti in 2010 and the earthquake at sea caused a tsunami to hit Chile. What is my advice? Be a boy scout… Be prepared…
January
Shari is off to Acapulco in January, right after she gets a new hairstyle; shorter of course. The last month of the Chinese New year starts next week and will be the final phase before the good times roll from February the 3rd. The Chinese New Year is good for Shari and for me and so that is something to look forward to.
I just checked my new diary; the phases of the moon aren't in, but there is a new moon next week and that is the beginning of the final phase of this Chinese year. I shall be starting a new novel, a comedy and writing for Nothing Cooking at Niente and of course taking photographs. I have decided to buy a barbecue; my family wants me to have a barbecue in the summer. That will cost a fortune, just in weed killer for the garden.
I expect January to be fairly quiet; my Chinese students will have a vacation for Chinese New Year. I think the rise is VAT will be a damp squid — no one cares. I think the UK will stay in hibernation mode for January and life will continue as usual; we will moan about the weather and plan a Spring of Discontent. Someone said the snow has finished but still stock up on food and board yourself in; that could be good advice. I heard something about Sarah Palin standing for president of the United States; scary… I can predict a challenge to Obama during 2011 and he won't be president for a second term.
February
This will be a more interesting month as my birthday will be over and done with and I'll be adjusting to being another year into being old, wise and senile. I think the Nothing Cooking website should make some progress that month and Shari's new group on LinkedIn may start to get interesting by then.
I just looked for something in history on my browser; I must have visited 1,000 web pages yesterday. I shall go back to feed burner and learn about RSS and feeds. I also predict that in February interesting things will happen concerning my family. I saw photographs of a couple of great nephews I didn't know about on Facebook yesterday; that could be the start of something interesting. I think my new novel should be taking shape by the end of February too.
I even think this website will be more popular by then, I saw statistics yesterday; I think you should tell all your friends about this site and I mean both of you…
March
I see protests start in March in the UK as the weather improves beginning with the Welsh and later with the Irish complaining about cuts; the students will once again take to the streets when they have a week off university and the disabled will complain about benefit cuts.
There will also be protests about Human Rights; I shall probably support those and the disability protests. Things will get even worse after the spring equinox as unemployment goes up and more government workers find they have no job. I also see problems and protests at the BBC and in the media in general just starting.
On the other side of the pond, QE 2 is considered to be a failure and with the Euro, Chinese Yuan and Pound sterling on the rise against the US dollar; economic policy is in need of a rethink. The job cuts really begin with defence spending cuts, mainly on the manufacture of armaments; but this is done stealthily and there isn't much protest. Politicians from both parties come to agreements with big business to cut Federal spending drastically and increase taxes; expect a Federal VAT to be discussed if not introduced.
If anyone is the slightest bit interested in my predictions for 2011 and comment; I may do some more tomorrow. April is interesting; people really take to the streets in the UK.
I win the lottery in May!


I buy a new car in June!


I have a barbecue in July!


Keira Knightley drops in August!

I'll be back…
[Editor's Note - If Mike has more predictions, they will be published as a separate post AGAIN, in addition to a comment on his Blog-within-a blog: http://sharisax.com/DrivingMissShari/2010/09/guest-blogger-mike-maynard-wit-farmville-strategies]