Here's to Craig's List . . . and how we sold the accident victim: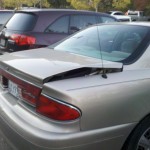 1. My husband Jack posted the car for sale on Craig's list. No luck the first week.
2. Jack posted it a second week. No calls or emails.
Do not quit five minutes before the miracle happens.
3. Jack posted it a third week, and VOILA, calls came in!
We were asking half the Blue Book value [$2,500] because of the damage. "Ed" called and offered $1,000. Jack went down to $2,000 immediately. Ed stuck to his $1,000 . . . and the first call ended.
During a second call, Ed told Jack that he wanted to come see the car.
I answered the third call –
Voice on phone: Hello, did you call me?

Me: I'm not certain. Who is this?

Voice: Aaaah, was this about a puppy for my son? [Note - this was the Week Before Christmas. I hear a poem brewing from this incident.]

Me: Sorry we don't have any puppies here.

Voice: Oh no? Hmmmm, was this about a car? My sister's boyfriend left her last week and she has a nine-year-old son and she needs a car to take shopping . . . .

Me: Well, yes, we do have a car for sale on Craig's List. Did you talk to my husband about it?

Voice: Yes, that's it. Your husband is Jack, right? I told him I wanted to come see the car. Will you be there this afternoon?

Me: We'll be here. Did he tell you the price?

"Ed's" voice: Oh, yes that's all set. I'll be there at 4 pm.
4 PM and the Plot "Thickens"
Ed calls from a nearby Target store. He'd just gotten a ticket for taking up two parking spots in the lot. Remember, this was the Week Before Christmas. And he said he wanted to be certain of the directions. The shopping center was less than two miles from my house.
A few minutes later, Ed pulls up with wife and baby in a late model Cadillac. He and Jack discuss the car. Ed calls his father . . . several times. Ed takes out a roll of bills and offers us $1,100. We say No, the agreed on price was $2,000. Ed says, "I'll pass" and drives off with Cadillac, wife, and baby.
Jack and I go back in the house, and I say:  "What was that all about?" Neither of us knew . . . at the time
to be continued