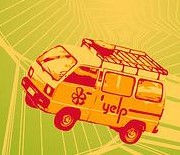 How do you feel about Yelp? Inquiring minds want to know.
I asked that question all over the Net — on Twitter, Facebook, LinkedIn, and even Yelp itself. And I got an earful PLUS a hilarious discussion on the Yelp TALK feature. [Check it out, especially the "goggle" chat. If you are not now a registered Yelper, you'll have to sign up to read the conversation.]
Yelp is an online city guide with a Web 2.0 mentality, allowing "real people" to write "real reviews" about nearly any type of business — from restaurants to dentists, bars to clothing stores.

— from Wikipedia
Some context:
1. A new acquaintance, a dentist, upon finding out that I was a "Social Media Strategist," asked me how to remove negative comments on Yelp. I didn't know for certain, but my suspicion was that an ordinary human being who was not an "insider" [i.e., advertiser or Yelp staffer] had no such powers. I'd heard other unhappy Yelp stories.
2. My BNI friends were advising our entrepreneurial members to Set Up Profiles on Yelp. I had my doubts, but kept my mouth shut — at the time.
3. One of my BNI colleagues suggested I become an "Expert" on Yelp, so I could advise him and others. Of course the label "Expert" is anathema to anyone studying social media since Social Media changes by the minute — thank you Mark Zuckerburg, Jack Dorsey, etc.
4. So I started my research by posting the aforementioned question . . . and offered to do a Guest Post for a friend's blog. It appears that I have opened Pandora's Box.
5. An Aside: CROWDSOURCING: The realization that readers often know more than writers.
I'll be writing my Guest Post tomorrow, but I plan a series on the subject for SHARISAX IS OUT THERE and would love your help. I have a few posts already planned to highlight experiences from some of the LinkedIn and Yelp responders, but I'm also looking for Guest Posters to write a post for this blog series.
So have at it. Whether you are a Small Business or a Consumer, please comment below or email me at sharisax@aol.com.
Have Yelp reviews brought you business?
Have Yelp reviews lost you business?
Are you a Yelp reviewer? An "Elite" reviewer?
Do you use Yelp to find local businesses? What kind? Were the reviews accurate?
Do you advertise on Yelp? Is it working for you/
Have you been hounded by Yelp ad salespeople?
How do YOU feel about Yelp?
Let the "games" begin . . . or as many Yelp-ers contend, let the Mafia Wars continue.