When my 2003 Buick Century got rear-ended at a traffic light, and I took it to a body shop and discovered the damage was more than $4,000, I decided

Time For A New Ca

r

.
Step One turned out to be checking the Enterprise Rental Car sales lot when I picked up a rental car. I drove the Hyundai Sonata, which was the featured car that month: 33,000+ miles for $13,000.
I actually liked it, and if I'd wanted another A-to-B car, I probably would have bought one of them.
But my birthday was a week away and I thought to myself,
"If I don't buy a more luxurious car now, then when .  . . "
Step Two: So that's when I decided to go to LinkedIn and post this question in my favorite LinkedIn group Linked Local Marin [a site with about 1,700 fellow Marin business people]: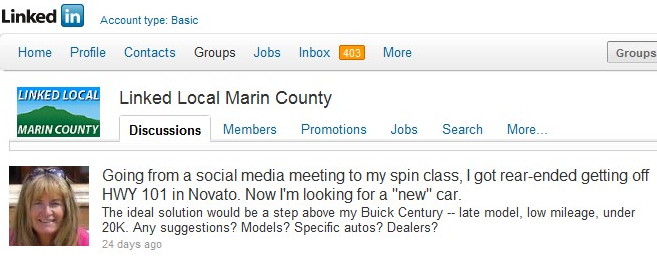 The discussion drew 21 comments! Check them out: http://www.linkedin.com/groupAnswers?viewQuestionAndAnswers=&discussionID=32722052&gid=2190523&commentID=25081803&goback=.gmp_2190523.amf_2190523_18815785&trk=NUS_DISC_Q-subject#commentID_25081803
The one I "went with" was from my friend Philip Baldwin who first suggested the Hyundai Sonata, which I had driven . . . and then he said that what he'd really wanted was a Hyundai Genesis.
Hyundai Genesis?
Never heard of it, that is, until I test drove the Kia Amanti and was told that (a) Hyundai had bought Kia and (b) Hyundai discontinued the Amanti in favor of their luxury model, the Genesis.
Step Three:

I drove one and was hooked.
. . . that is, until I discovered the Genesis came in both a sedan and a coupe, which were really two different cars. But before making the decision on 4-door or 2-door . . .
Step Four: Another round of LinkedIn.
This time I posted a question in the Answers section: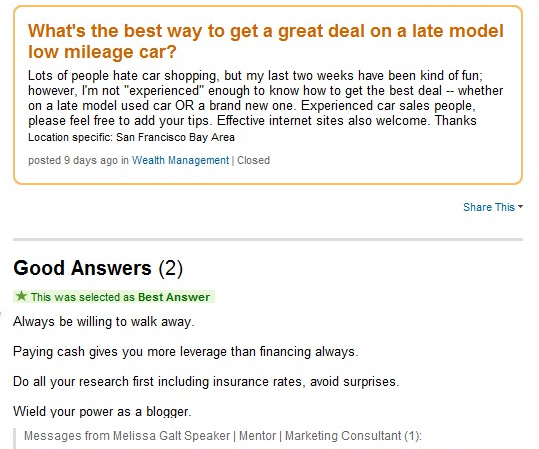 Next steps: Doing research online and on "lot" and test driving several models. Then "walking away" from the car I really wanted. Four telephone calls from that dealer [and more than a dozen from other dealerships], I visited my car a second time and "split the difference" between the dealer's  lowest offer and mine.
I'm a happy camper . . . or should I say 2010  Hyundai Genesis coupe driver.
Next LinkedIn move?
Sharing this post with my LinkedIn groups
🙂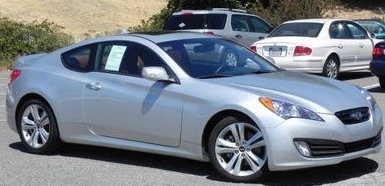 BTW, there's a "slideshow" of my car on my DRIVING MISS SHARI post: "My new Hyundai Genesis .  . . almost"