Mike Maynard is my newest BFF. We met "playing" LinkedIn: I ask questions, and Mike answers.
When I started my new blog DRIVING MISS SHARI [DMS], the first post ended with the question "Who or what drives you?" What the heck, I thought, I'll ask it on LinkedIn and see what happens.
MIKE MAYNARD: I'm not sure what the question is. When I was too sick to drive I found a cab company and actually talked to the owner. He told me he had a virtual monopoly where he lives. But although he owned a lot of companies, one in particular used easy-to-recognise cabs — and had a toll free number.

When I phoned, I would always say my name, where I was, and where I wanted to go; and I always got the same reply. "We'll be there in 5 minutes" . . . and they were! It was actually cheaper than running a car. I prefer my car because I can carry things around with me and like driving, but taking cabs for a year or two wasn't too bad. The main thing is to trust the drivers. I learned after taking a cab with a nut at the wheel! He took me to a city miles away and then brought me back and I arrived home at midnight!
"the rest is history" . . . as they say. Mike now writes regularly for DMS in his blog-within-my-blog: "Say NO to Credit Cards and YES to Getting Rich & Famous" [Check him out if you love British humor, irreverence, Monty Python, and Kafka.]
So what's Mike doing here on a blog about social media?
1. He plays Farmville a lot, and I don't know anything about Farmville, but maybe some of my prospective clients [and yours] may love the game, too. Maybe we'll need to play?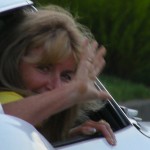 2. If you haven't yet checked out DRIVING MISS SHARI — Mike's & my posts and the several hundred comments — please do. I'll be writing more about the growth of this blog in the future.
3. Did I say that Mike's a hoot. I have friends who tell me they kick off their days doing this or doing that. I start mine with a huge smile because I'm reading and posting Mike's across-the-pond stories.
Here's Mike and . . .
Why I play Farmville

by Mike Maynard
I planted grapes in Farmville last night, they take 12 hours to grow. You have to know the return on Investment when you sow a plough and sow a crop. The ROI on white grapes is 100 coins per plot. I planted around 400 plots – so the ROI was about 40,000 coins. I also planted other things that would take round 12 hours to grow. If I had planted raspberries, they would have withered by the morning – they only have an ROI of 5 coins per plot and take 2 hours to grow.
This is about improving business skills. It is also about time management. I have to choose to harvest manually which takes time or use fuel and use a harvester. I harvested using the harvester and planted most of the farm or vineyard with more white grapes but there is also rice growing for Saki and in 4 hours the strawberries for fruit wine will be grown. The grapes and rice needed to be done early around 9am then the 12 hours will be up when I go to bed. If the TV is boring – I harvest or do it after the TV finishes or in the commercials. I also made the wine and bought goods from my friends this morning; they will be exchanged for fuel. I need 1,000,000 coins to upgrade the winery and an extra 100,000 coins as working capital.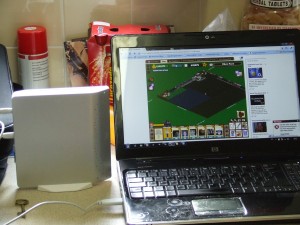 It is also about winning. My friend Rob introduced me to this; he went to agricultural college. I passed him after a week and he is now on level 31 and I'm up on level 87. It is not about Farming, it is about business!
My friend Marie was winning and it was hard to catch her. She lives in Alabama and many of my friends are American; but they aren't chasing me! My friend in Holland is addicted to Farmville and I kindly gave her tips on how to play; she has now passed all her friends and mine and takes second place on level 82. Think you can catch us? She has already updated her winery with 1,000,000 coins.
This is about competition!
I need some new tricks. The better the wine, the higher the price I can sell it for. I can make a dozen different types. I need one to be really good and fetch a high price. I need that 1,000,000 coin upgrade – so I need to maximise my ROI as much as possible. The winner is the one with the most XP (experience points). I am still 130,000 ahead – so I'll stay ahead but at what cost? I can't spend more time on the game. I have to use time management again and even consider growing vegetables for a greater ROI and use my vast stock of wine to sell for a while.
It is a simple little game of business tactics really.
I'm certain that Mike will tell us HOW TO PLAY Farmville if we ask nicely.