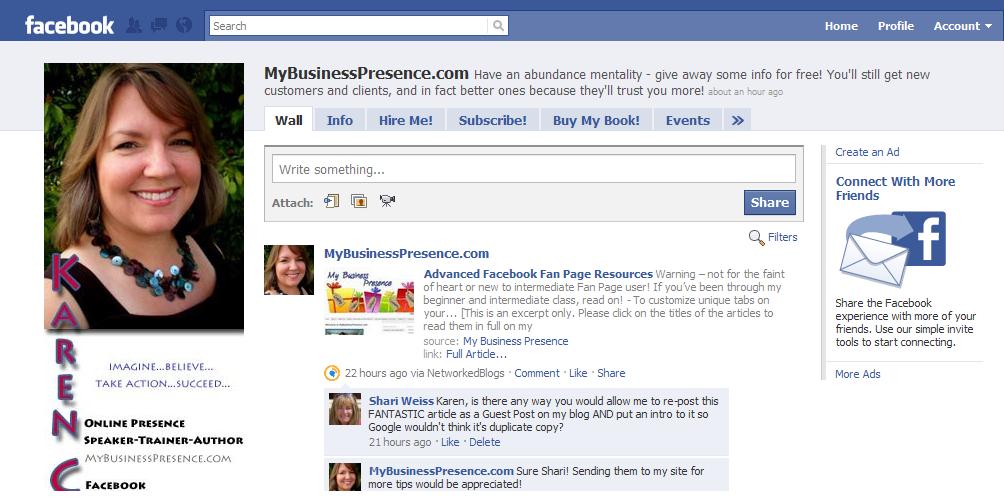 Karen Clark is as charming as her smile, and I have learned a great deal from her as we both travel along Social Media Revolutionary Road.
One day Karen's photo appeared prominently on my Facebook profile page, and the next day I met her face-to-face at a get-together for the speakers at the first SocialBiz2010 conference held in Petaluma last April.
Karen leads social media workshops for all levels of learners from beginner to advanced, and the following is an article just posted on her site. Being the friend she is, she has allowed me to re-post it for my readers to learn from, as well. And she invites you to go to MyBusinessPresence.com if you have any questions.
Advanced Facebook Fan Page Resources
To customize unique tabs on your Facebook Fan Page, use the Static FBML Application:
http://www.facebook.com/#!/apps/application.php?id=4949752878&ref=ts
Under its logo click Add to Page then select your Fan Page.
Visit your Fan Page, and under your picture/logo click on Edit Page. From the list of items on the next panel, find the FBML-FBML section and click Edit. This will bring you to a blank box with the title FBML. Change the title to whatever you would like your new tab called, and then insert either FBML code or plain HTML code into the box. I have some basic HTML commands on this blog post.
To create multiple FBML tabs, while you are editing one of them, go to the bottom left and click Add Another FBML Tab, and you will be able to add up to 10 unique pages.
You can also use an HTML editor to create something the way you would like it to look. I personally use Dreamweaver website creation program, but that is typically too pricey and complicated for non-web designers. Try using something like this HTML editor. You may even  have something on your computer already. Just make sure that you are using plain text HTML.
CAUTIONARY NOTE: One particular problem with many text editors (like Word – do not use it unless you can convert to plain text only) will use "smart quotes" or "curly quotes" which do not work in FBML tabs. FBML needs all quotation marks within the code to be completely straight. If you have HTML you are using that isn't working – check your quotes!  Another thing to remember is that if you are using a web page creator, only copy and paste the code BETWEEN the <body> and </body> tags. Everything before and after and including those tags will cause your code to not work. If you have any trouble or need me to double check your code, let me know!
Most of the time you will need the file URL of any images you are using on your fan page. This will be http://www.something.com/images/whatever.jpg or something like that. If you have images you want to use on another web page of your own (do not lift off of others!) then you can usually right-click on the image, View Image to get the file URL or Copy Image Location, then paste that file URL.
PHOTOS: If you do not have access to the image already hosted on one of your sites, upload it to a site like Photobucket. Sign up for one of their free accounts, upload your image, and then find the Share Image section, which will give you either the embedding code which usually works, or the file URL.
EMAIL: If you would like to capture your Fans' email addresses, you can create a new Static FBML page and copy/paste your email newsletter provider's website html code and make it work. For mine, I use MailChimp.  There is a place to create a "Small Form for Website" which fits fine. Just make sure you check off the box that says to add a non-javascript form.
CONTACT: For a Contact Page where your fans can ask you a question or send you feedback that arrives by email, I use Freedback.  This is free if you do not mind your visitors having to see some ads, or you can pay a small fee to get a form ad-free. You will be given the html code to paste into an FBML tab.
REVENUE: If you would like to collect money for services or products on an FBML tab, you can do so using a free shopping cart that I have used for years. This is not actually a shopping cart system as it is a way to add code for an "add to cart" button wherever you would like one, and clicking on it leads to the mals-e page that you are able to customize. The transaction then takes place on the mals-e secure servers and integrates with either Paypal or a merchant account, or you can even tell them to send a check if you prefer. Some people have also been able to simply get Paypal buttons from Paypal and paste the code into their FBML pages but I use mals-e. It emails me when I have an order, and then I log in to get the credit card information, or it confirms that it has been paid through Paypal.
BLOG: Networked Blogs is my preferred application for importing your blog posts into your Fan Page or personal Profile page. You can sign up for it here.
TWITTER: To tie your Fan Page to your Twitter account. This will send anything you post to your Fan Page over to your Twitter account, truncating it to 140 characters including a link back to your Fan Page for them to read the rest.
INTEGRATION: And finally, to manage all of your online presence tasks, consider using an integration tool such as HootSuite. This allows you to access all of your accounts from one screen – Facebook Profile, Fan Pages, Twitter, Linked In – and monitor for replies. It also lets you monitor any keywords or search terms you wish, as well as schedule some non-conversational posts in advance. This is handy if you will be away from the computer or out of town.
*   *   *
Facebook Fan Page gurus: Any more tips for our readers?
FOR MORE BASIC FACEBOOK INFORMATION:
Do's and Don'ts on Facebook to Preserve Your Online Reputation
How to put your Facebook Friends into Lists