"Social Media: Step-by-step"
The End of The Year is made for reflection, clean up, and planning for the future.
Six months ago, social media luminary Chris Brogan published 19 tips to manage your SM online  presence.
And I most likely did what a lot of my friends might have done, i.e. LOOK at the List and THINK "What a great list" and then [most probably] moved on to something else to read.
What were we missing?
A lot!
An Actual Roadmap for DOING & LEARNING Social Media!!
So I thought I'd take a few of our moments here to actually study Chris's list and chat about each item, i.e., more active reading and more opportunity to "internalize" some of his great advice.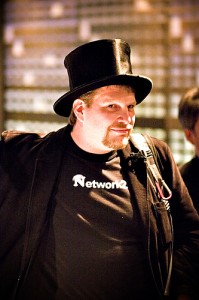 Note: Chris's 19 tips are in blue. [And he recommends you do them Daily. That, of course, is up to you.]

Twitter
1. Find seven things worth retweeting in your general feed and share.
When starting a new regimen, EASY is good. And finding valuable info on the Net to share will make you feel good as well. Of course, if you have really read the information and can add an insight of your own, that will help you as well as your audience.
2. Reply to at least five things with full responses (not just "thanks").
Commenting on other people's blogs is Not Easy, but it accomplishes so much: e.g., adding to the conversation, recognizing the writer's hard work, and getting your name out there . . . for just three benefits.
3. Point out a few people that you admire. It shows your mindset, too.
Hmm. Have to do a bit of interpretation here. I'm assuming that Chris suggests we use the @name and pat them on the back in a Tweet. That's very cool, but every day? It might be more realistic to find new person to applaud every day. If you keep praising the same people, that seems a bit spammy.
4. Follow back at least 10 folks. (I use an automated tool, but this is a personal preference. If you want such, I use SocialToo.)
Following people back is easy — but deciding WHOM to follow back is another story. I, personally, am not a fan of anything automated and that alone may slow my popularity growth online. Many people do follow you automatically, most often after you Tweet something with a keyword they are following. And, in most cases, I follow them back — but NOT if their last comment was spammy or missing. And I also look at the Avatar. If I feel it is "inappropriate" in any way, I don't follow back.
5. 10 minutes of just polite two-way chit chat goes far.
Every time you or I go onto Twitter with some time specifically devoted to participating, I think this is fun to do. If your closest Twitter friends are not posting at the moment, you can engage in some conversation with anyone who posts something you like. The poster could be someone you are already following — or better yet [and a way to accomplish #4] — do a search for an area of interest and converse with someone who writes something interesting, whom you were not following before.


Because I use Tweetdeck and have a steady stream of real-time posts about my key search terms, I can always find new people to chat with.

BTW, I just Tweeted @chrisbrogan asking if I could use his photo, and he said 'Sure" [only 9 more minutes of 2-way chat to go for today]

Thought I'd take this opportunity for a shameless plug for my own Twitter Cheat Sheet post:

http://sharisax.com/2009/12/03/twitter-basics-workshop-cheat-sheet/
Facebook
1. Check in on birthdays on the home page. (Want a secret? Send the birthday wish via Twitter or email. Feels even more deliberate.)
Honestly, it was fun  back in October to have all the birthday greetings on my Wall. But I imagine Chris is right and that a Tweet or email would have been even more "personal" and warm.
2. Respond to any comments on your wall.
Actually this tip sounds like a No-Brainer, unless you have 5000 friends — which I don't . . .
But from what I understand, if we want to use Facebook for Business purposes as well as Personal, then we all will need to connect with many, many people through Facebook. If you are reading this post, please Ask to be my Friend. Chris, you, too. 🙂
3. Post a status message daily, something engaging or interesting.
This advice gives me the opportunity to spout my own viewpoint on "Updates": At this moment in my social media learning curve, my opinion is that updates to Facebook will Not always be appropriate to other platforms. I am really anxious, though, to hear/read other people's opinions on this.

I know there are sites like Ping that make posting to all your sites simultaneously a breeze. I don't do this [yet], do you?
4. Comment on at least seven people's status messages or updates.
Now this is WORK, but the kind of "social capital" that pays off huge rewards. As a matter of fact, I'm going to stop writing right now to comment on my friends' updates.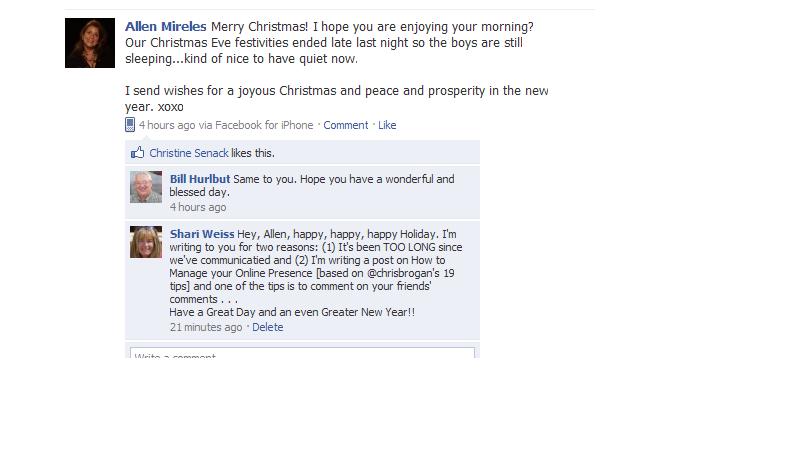 This reminds me of a related tip: Do things NOW. If you wait, they are forgotten.

5. Share at least 3 interesting updates that you find.
Honestly, this is ONE tip I'd never thought of, but I can see that ANY TIME you share someone else's thoughts, you make them very, very happy . . . and spread the good words.
6. If you belong to groups or fan pages, leave a new comment or two
Again, something New for me. I've been joining a few Fan Pages, but I can't remember even looking at them.
🙁 Let alone, commenting. This will take some thought; however, that being said, I, too, have a FanPage that would love to see some "love," i.e., comments: Performance Social Media. [Become a Fan . . . and comment 🙂 ]

LinkedIn
1. Accept any invitations that make sense for you to accept.
A "no-brainer" . . . except for deciding what "makes sense" for you. I've heard of people who are VERY discriminating in accepting LinkedIn invitations: their practice is to ONLY connect with people whom they know well and would write a recommendation for.

My own practice follows the advice of many LinkedIn gurus who suggest that the real power of LinkedIn is in your second and third degree connections, i.e., the people who are connected to your connections.

Please feel free to connect with me on LinkedIn:

http://www.linkedin.com/in/shariweisssf
2. Enter any recent business cards to invite them to LinkedIn (if you're growing your network).
Great suggestion and a practice I do subscribe to. Of course, this means you need to keep up your F2F [Face to Face] networking as well as online. My friend and one of my personal social media gurus Dean Guadagni gave a great networking presentation to a networking group I belong to.
3. Drop into Q&A and see if you can volunteer 2-3 answers.
EXCELLENT ADVICE! LinkedIn is so much more robust and  powerful than most people know. Personally I've been on the "receiving" end of the Q & A function. I've met some great new contacts from all over the world — a few whom I'll be collaborating with on future projects.
4. Provide 1 recommendation every few days for people you can honestly and fully recommend.
5. Add any relevant slide decks to the Slideshare app there, or books to the Amazon bookshelf.
Another item for my To-Do List. I know that creating and sharing Slideshows is a fantastic way to build your online authority . . . and I Resolve to do some.



Blogs
1. Visit your blog's comments section and comment back on at least 5 replies.
WordPress makes this easy as I receive email notifications [and not enough comments . . . yet . . . let's change that. I do promise to reply to EVERYONE who comments on this post! Chris?]
2. If you have a few extra minutes, click through to the blogs of the commenters, and read a post or two and comment back.
GREAT IDEA: You comment here and I'll comment back — Be very happy to.
3. While on those sites, use a tool like StumbleUpon and promote their good work.
Absolutely, but I like Digg and Delicious . . .  hint, hint. [Check the end of the post for an easy click through to those sites.]



4. Write the occasional post promoting the good work of a blog in your community.
NEXT POST: Handy Checklist to manage all these tasks
Well "we're" finished with the planning. Now it's time for the doing. Please let "us" know what that "Doing" entails.