Twitter is like my personal bookstore, but so is most of Web 2.0
Sharing is one of the amazing benefits of Web 2.0, so it's no wonder that Twitter is so important to me — both as a source and a repository. Here are some of the articles I read and Tweeted and Re-Tweeted this week:
New York Times tips for Marketing on Facebook
Quick Tips worth repeating over and over [until people get them ingrained]: (a) Identify goals; (b) Share personality; (c) Engage, don't shill; (d) Use Facebook data Here are some article highlights:
Be where your customers — and prospective customers — hang out.
Start small and add tools & apps slowly
Enliven page with photos and useful information
Buy-buy-buy messages do not work
Offer value and be patient
NYT article on Facebook for Business
Blogs are best HUBS for your content
Here are seven reasons why:
With a blog, you control the agenda, whether you're communicating on behalf of a company, or for personal reasons.
Your blog can cater to a sub-group of your Twitter friends or a different audience altogether.
A blog is less dominated by spam than Twitter.
You can embed images, audio and video on your blog.
Blog posts can be of unlimited length. You can express yourself in more than 140 characters.
With some environments, you have almost unlimited control over the appearance, functionality and arrangement of your blog.
Many blogs include the ability to offer contact forms, polls, chat and other functionality. You can even embed your Twitter stream into your blog.
Blogs better Hubs than Twitter
Local audience — where the money is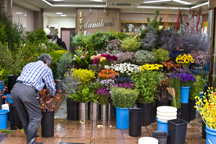 Nope, even traditional media admits social media is NOT a fad. Local bloggers are being paid for page views. Viral nature of social media is fountain for success. Social media provides 2-way communication. Social media will be your local marketing tool
Facebook & Google win social network marketing race
"In the future,

the Web you know

will be based on

the Web that knows you

."

"Social Media has simply become an unstoppable force."

"Making special offers based on known behaviors and connections, will be automated."

Future marketing outreach: "Maybe you'll also reach out to one of the baker's dozen's worth of active baking-related groups on Facebook."
Future of Marketing – PR Squared
Robert Scoble interview with POSTEROUS for the "GEEKY-ER" among you:
Top Geek-Thought-Leader Robert Scoble posted a video interview with the two creators of Posterous, a platform on which anyone can post content via email. Steve Rubel  stopped publishing his highly regarded marketing communication blog Micropersuasion in favor of a Posterous stream. Video is 17 minutes long and features Robert's questions for Posterous founders: Sachin Agarwal and Garry Tan. Highlights:
Purpose is to provide a simple, clean platform for rich media and mobile application.
Only four full-time engineers do all the work.
To serve 1.8 billion people who don't want the hassle of a traditional blog
Future business model to offer Premium features — far in the future.
Check out more of Howard's Awesome photos on his website: http://faces-and-places.net/indexa.html